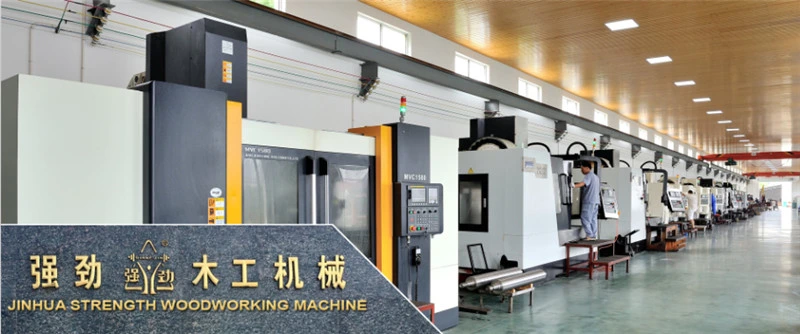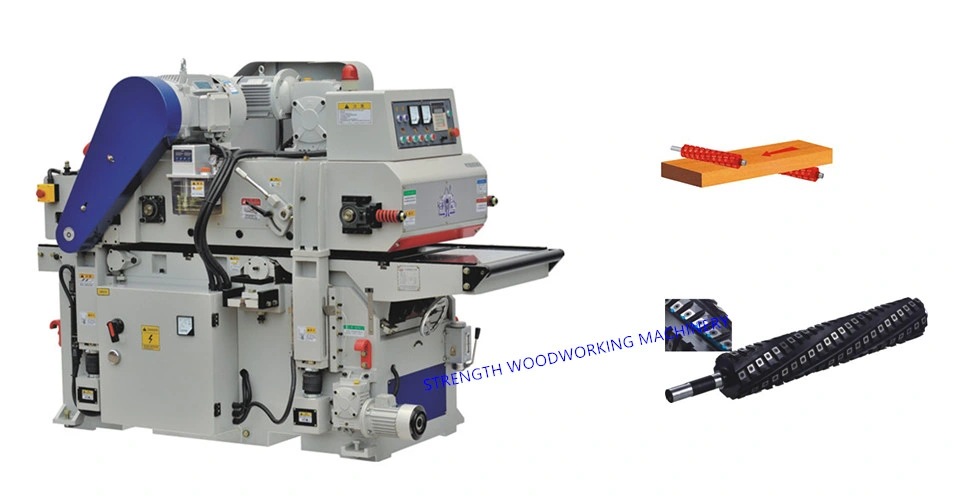 Woodworking machine for double sided planer
Model: MB204F(Equipped with Straight Cutter Head); MB204FL(Equipped with Spiral Cutter Head)
MB204H
(Equipped with Straight Cutter Head); MB204HL(Equipped with Spiral Cutter Head)
MB204F(Equipped with Straight Cutter Head); MB204FL(Equipped with Spiral Cutter Head)
MB204H
(Equipped with Straight Cutter Head); MB204HL(Equipped with Spiral Cutter Head)
| | | | | |
| --- | --- | --- | --- | --- |
| Main technical data | MB204F/MB204FL | MB204H/MB204HL | MB206F/MB206FL | MB206H/MB206HL |
| Max. working width | 430mm | 430mm | 630mm | 630mm |
| Max. working thickness | 200mm | 200mm | 200mm | 200mm |
| Min. working length | 260mm | 260mm | 260mm | 260mm |
| Max. planing depth (upper cutter head) | 8mm | 8mm | 8mm | 8mm |
| Max. planing depth (bottom cutter head) | 5mm | 5mm | 5mm | 5mm |
| Cutter head planing diameter | ¢101mm | ¢101mm | ¢101mm | ¢101mm |
| Cutter head speed | 5000r/min | 5000r/min | 5000r/min | 5000r/min |
| Feeding speed | 4-16m/min | 0-16m/min | 4-16/min | 0-16m/min |
| Cutter head motor | 7.5kw/7.5kw | 7.5kw/7.5kw | 11kw/7.5kw | 11kw/7.5kw |
| Feeding motor | 2.2kw | 2.2kw | 3kw | 3kw |
| Machine weight | 2100kg | 2450kg | 2500kg | 2800kg |
Wood double side planer machine main features:
1.high precision
2.long service time and durable quality
3.planing many kinds of the panel material
4.processing the material in the shape what u want
5.safty and high protection
6.high efficiency
7.set the best German spiral cutter, improve the planing and speeding
8, Casting for machine body and workbench and then aging treatment, the machine can keep strong and long stability.
9, Using the caterpillar elastic claws feeding, and also is equipped with pressure fine-tuning institutions, so the machine can be adjusted according to the thickness of a timber, bending degree, ect, Then improve the precision.
10, Feeding roller keeps stability of pressure and convenient adjustment with pneumatic transmission front and back for feeding roller.
11, Chip breaker is made of sectional structure, to make planing many pieces short wood at the same time.
12, Planing cutting system: there are extra two guide plates, make the short and narrow wood better, the min. length 260mm change to 120mm, improving the utilization of wood great.
13, Using the miter planing for wood surface for one side, it makes low noise, small resistance, smooth thicknessing.
14, Add planing thickness controller, precision achieves 0.1 mm.